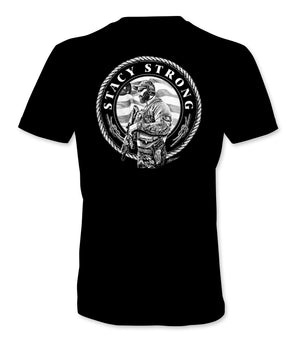 Stacy Strong by Frank Allen
Sale price Price $26.00 Regular price
This original artwork is a labor of love by artist Frank Allen of Fallen Graphics.  He has graciously contributed hours of time and tremendous talent to produce this tribute piece for Kenton Stacy and his family.  The original artwork has been framed and given to the family.
We are honored to be able to reproduce it here for you and continue to raise money for the Stacy Family.
We are screen printing them on a medium weight black shirt to ensure the shirt and print will hold up for years to come.
Thank you for your continued support of the Stacy Family.
To find out more about the works of Frank Allen, please visit his web site at www.fallengraphics.com/
Pre-Orders being taken now.  Shipping starts 12/10/18